Yesterday's Chicago Tribune Business section headline reads "Borrowing from Both."  It's an interesting bit about the branding choices the newly merged company will employ.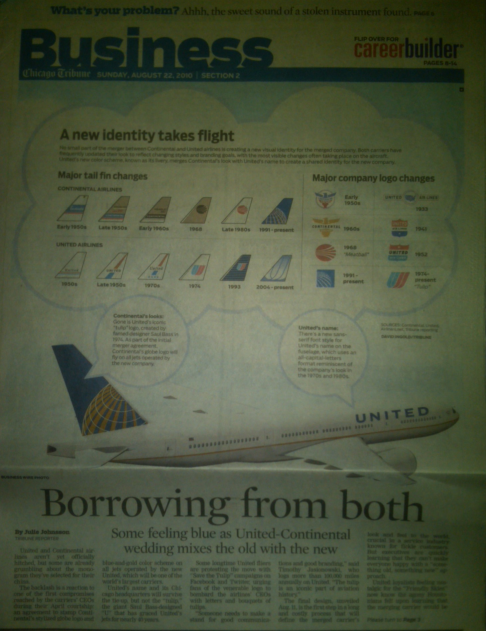 As the picture shows, they have chosen to abandon the United "tulip" logo in favor of the Continental "globe," but they are sticking with the name "United."  This is a terrible idea.
I'm all about compromise, but this is a hodgepodge mess.  I can hear the consultants now, "Continental sounds domestic, and we want to be a global airline, so let's choose United.  But the globe logo is 'global' and we want to be global, so lets put that in there too."
In the end, it's just weak.  Would you, outside of the context of an airplane, ever associate a checkered sphere with United Airlines?  Doubtful. You'd probably get more answers of AT&T.
The tulip is unmistakably United.   It's powerful, red white and blue, and unique.  It incorporates the "U" and conjures up images of wings. The globe does none of this.
The plane the Tribune art shows looks like the celebrity love child mash-ups that late night hosts put together.
Here's United/Continental's official new look:

If they wanted a change, they should have done some real work like David at the "Subjective Objective" blog. He goes into a bit of the history of the two logos, and finds a common background with Saul Bass's designs employed by both companies in the 1970s.
He offers up this beauty which combines both firms heritage without looking like a complete afterthought: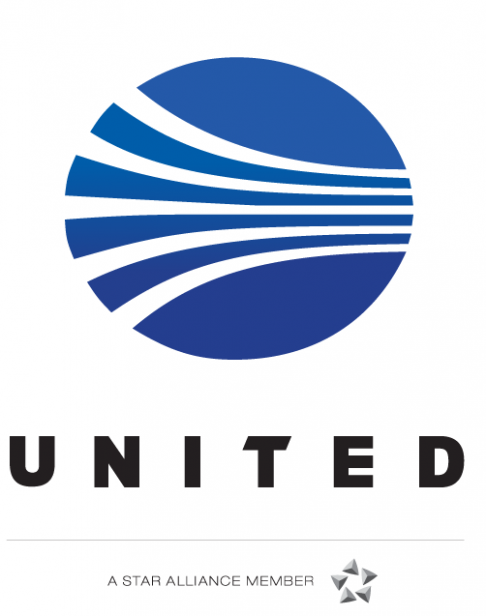 Which one do you think is more effective?
-Chris