When I sign up for an email list, I expect to receive timely notices of sales and promotions from time to time.  However, most retailers have taken to abusing this practice.  This holiday season, J.Crew took it to the point of absurdity.
Over the past 62 days, I have received 50 emails from J.Crew.  They all have a subject line that says something like,  "We typically charge about 30% more than our clothes are really worth."  The conspiracy theorist in me surmises they were trying to pump-up revenue before they sold themselves to a private equity firm.
Take a look at a filtered shot of what J.Crew has sent me since November 1.  You might have to click on the image to see all of the dates an offers.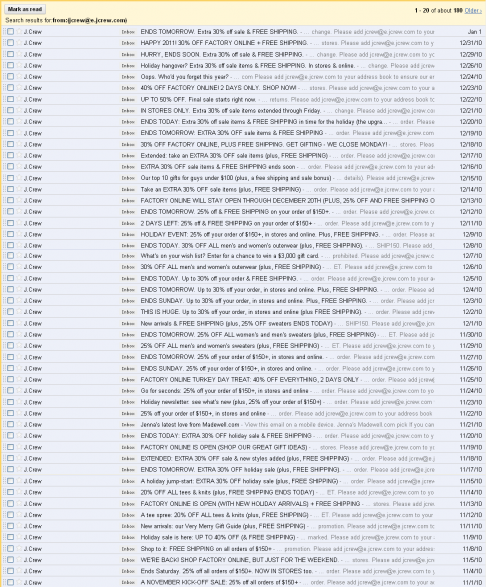 Getting one of these everyday with nothing new to offer makes me tune all of them out pretty quickly.  J.Crew emails no longer go to my Blackberry. I've filtered them out.  I rarely check the emails that don't go there.
I promise to keep Stodgy honest and courteous in our email policy.  We don't run traditional sales, so this kind of spam isn't helpful.
We have a few thoughts on how discounts should work, and I'll be posting those over the next few months.  But I assure you, it won't be based around a 28 email a month spam campaign.
-Chris
Sign up for Stodgy emails through the contact form.