This weekend I decided to try out Amazon's new cloud-based music system. The iTunes and associated store have long been due for an upgrade. They tax my fairly quick computer, and it often freezes.   I have also lost about 12,000 songs over the years due to hard drive crashes, so a web solution seems prudent.
Essentially, you just press "yes" on the Amazon site, download some widget, and it finds all of the music on your computer, including playlists, and starts uploading them to the "cloud". It's pretty slick.
Amazon MP3 Uploader: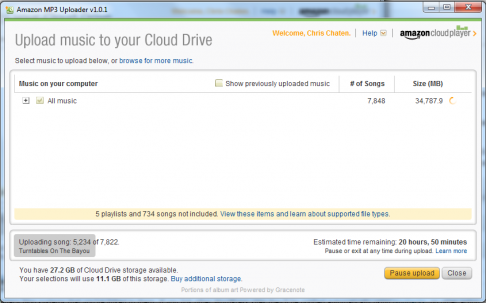 My library is roughly 7,800 songs, so I upgraded to the $50/yr plan which gives me 50GB of storage.  However, the uploader is still chugging away.  It's almost the end of the third day, and it's only through about 5,200 songs.  The uploader seems to pause itself for some reason, which creates that lag time if you aren't monitoring it.  I'm not sure what is causing this.
Beyond that, the cloud player is neat, if not a bit under-featured.  I do like the "Genius" button in iTunes (when it works), and I would like to see Amazon put something like that in place for quick hit playlists. A Pandora-like feature built from my library would be perfect.  Other than that, the only real limitation is the need for a relatively fast internet connection.  I'm on a fairly quick connection at home, and it lagged a bit while trying to stream, but overall it works well.
Amazon Cloud Player: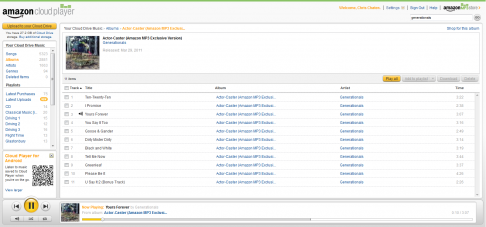 What Amazon is really trying to get with this service is people to buy MP3's from their store (as opposed to from Apple).  And, for me, it worked.  I bought 3 albums*, it synched right away to the cloud drive, and I can sync it back to my computer to load on the iPod.  The iTunes store, for me, has always been buggy and crash prone.  The Amazon store has none of these issue.
Now, I can play my library from any computer – friends, family, enemies.  This is good new for everyone, as I have exceptional taste in music.
-Chris
*Check out the Generationals new album "Actor-Caster".  It's pretty good.   It's nice and mellow to work to while it plays in the background.