As I was catching up on emails this evening on my iPad 2, I uncovered an odd defect affecting subject lines in the email app. When I was reading through an email thread for the upcoming JDRF Kentucky Derby party*,  I noticed the subject line was off.
As you can see in the photo below, the actual subject on the left side is "Re: JDRF YLC – Derby Party".  However, the subject in the reading pane reads "Another new course! Plus get a deal in the hottest equipment in the Pro Shop". Odd.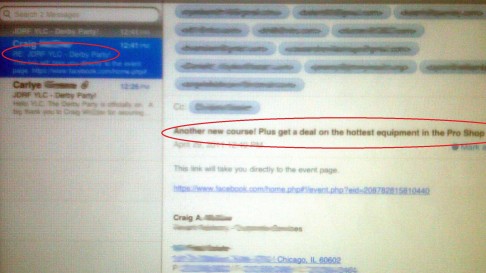 It turns out, this is the subject line from an EA Sports message promoting the online Tiger Woods golf game.  The EA Sports email arrived 4 hours after the JDRF email.  That email is here: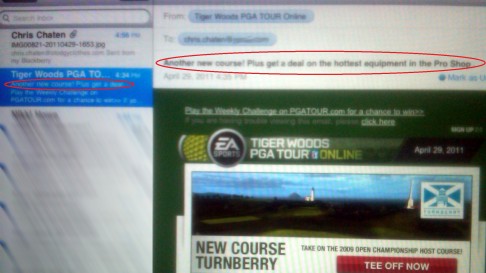 I was able to recreate the scenario by visiting another email, and then switching to the JDRF thread. See below the improper subject line of "Re: You guys in town 5/6 weekend?":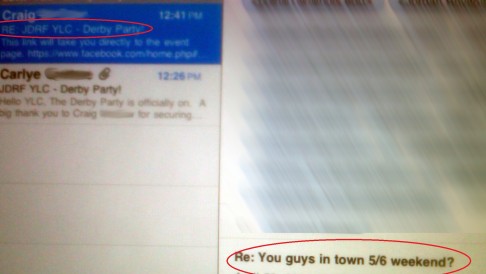 Has anyone else experienced this?  It doesn't carry over incorrectly if you reply to the email, or seem to affect the record in any way. An odd glitch, nonetheless.
-Chris
*In other news, if you are in Chicago next weekend, the JDRF YLC is hosting a Kentucky Derby party at English.  You should join us for a good day of horse racing for a good cause. More info on Facebook