As a minor addict of the food delivery website GrubHub, I've been awaiting the day they served up a rewards program.  Today, as I went to order, I noticed an update to the site to include this thing called 'Yummy Rummy'.
After 3 orders, you get a 'play' at the game, and you can win credits off future orders, food items, and even free food for a year.  It's an interesting twist on a standard points-based loyalty program.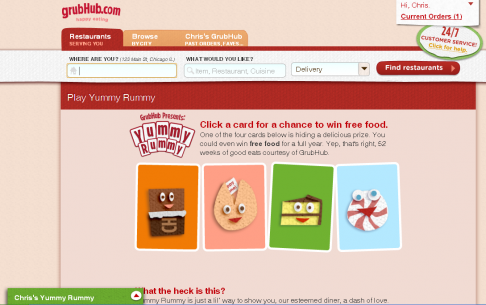 (I chose the chocolate cake. Not sure if it's a coincidence, but I won a free dessert.)
It was a bit glitchy, as it didn't deduct from my available games right away or show my prize in my account.  I'm sure they'll work this out.  A few things of note:
-It's based on orders, not dollars spent.
-This will likely be less costly to them than a passive rewards system, as you have to play the game and use the credits.
-Instead of food prizes, I prefer straight cash, homey.
It's a good step for my favorite Chicago-based web start-up. Eat up.
-Chris