An under-the-radar shift is occuring on Chicago's North Side.  Parts of the Lakeview neighborhood, most notable to visitors as home to Wrigley Field, have recently transformed from one of the cities safes areas to one of the more dangerous. In the past 90 days, beat 1924, which includes the Wrigley Field area, was#1 in all of Chicago for robbery incidents. Here's a post from a blog covering the issue in depth.
http://crimeinboystown.blogspot.com/2013/08/caps-just-little-note-from-us.html
Below is a chart from the blog, showing the marked increase in crime in 2011, and the persistance of that rate through this year.  This rise largely coincides with decreased officer presence due to a precent merger and civic priorities (shifted focues to South & West Sides and Michigan Avenue).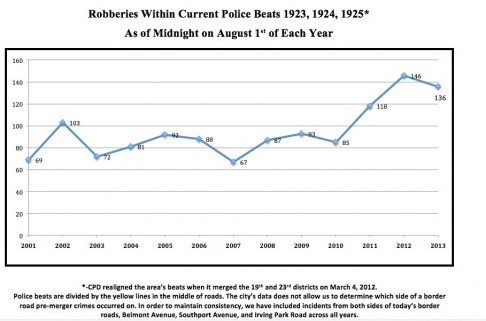 In order to provide context, I've devel0ped a heat map of the entire 19th Ward. The red and green highlights are not good; blue and grey are fairly begnign areas (relative to the hot spots).
I've tried to annotate notable landmarks that have been discussed at local community meetings and forums.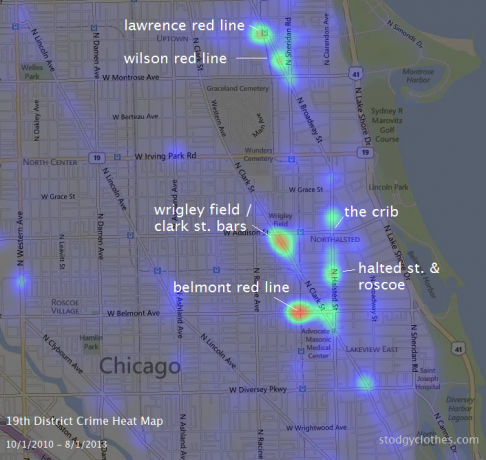 Some folks have asked a bit about change over time.  Let's examine robberies in 2008 and 2012.  The count in 2008 was 532 compared to 546 in 2012 accross the district.  However, gains in the north merely mask the spike in the south. The robberies in the 1924 beat spiked from 49 in 2008 to 119 in 2012 (2013 is already at 70) .  Take a look: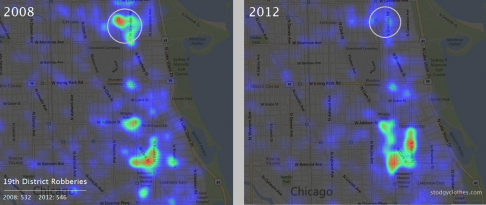 So while the norther part of the district is being cleaned up, the crime is merely moving south.  The Halsted and Belmont crime area is spreading throughout the neighborhood.
For more information on this issue, attend the CAPS meeting tonight:
Thursday, August 8, 2013, 7PM
Illinois Masonic Medical Center
836 W. Wellington (Front desk will direct you to the room)
Follow the blog Crime in Wrigleyville & Boystown for ongoing updates.
-Chris
Source: City of Chicago
Edit: "Ward" changed to "District" (no effect on data). Added data source URL.
Edit #2: Added 2008 to 20012 analysis