The CAPS meeting last night uncovered an issue of measurement that leads to unproductive conversation about crime trends. The beats and districts haven't been consistent over the past few years, so measuring changes based on those categories is tricky. To remedy this, we should use actual geographic locations to normalize the data.
Keeping with full year statistics, I've pulled 2008 and 2012 for a section of Lakeview that is perceived by residents to be degrading. I've buffered the area a bit for a margin of error, but the preponderance of crimes is in the hot spots highlighted yesterday. Below is the geographic area I'm using as a basis for discussion:1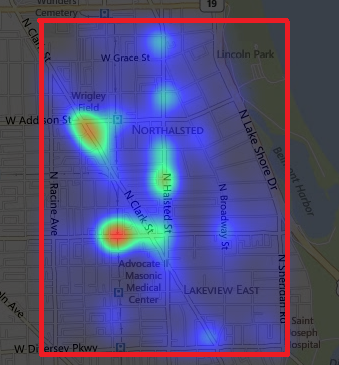 Lat Max: 41.953582 Lat Min: 41.932774 Long Max: -87.639323 Long Min: -87.659839
Basically, Diversey to Sheridan & Sheridan to Racine.
I've broken out crime types into three categories:
1. People Taking Things


2. Harm / Threat of Harm


3. Drugs & Decorum

A few notes:
While the "People Taking Things" index seems flat, the high number of thefts is obscuring the rise in the more serious offenses. Robbery, motor vehicle theft, and burglary are all up. Excluding theft, this index is up 21% from 2008.
The overall "Harm" index is up 22%, with criminal trespass the most notable increase. The "Decorum" index is up 39%, driven largely by the 70% rise in Narcotics reports.
As we see the 2013 numbers come in, our success should not use 2012 as a baseline. We should use 2008 as a benchmark and normalize for geographic area. If we do this, we can begin to have productive conversation about fixing the issue.
Summary:
People Taking Things Index (ex theft): +21%
Harm Index: +22%
Drugs and Decorum Index: +39%
Continue to follow this story on: Crime in Wrigleyville & Boystown
-Chris
1 Heat map is 2012, all crime within the lat long boundaries. Source for all data is data.cityofchicago.org