Okay, so we all know about the 50 state quarters.  It's the cool thing where each of the states gets a quarter with a symbol that represents the state on the reverse.  Apparently, the US Mint / Congress has opened this up to non-states.
While I was filling the washer with quarters, I noticed one looked like a design I had not seen before.  Upon closer inspection, it is the quarter for the US territory of Guam.  Guam gets a quarter?!?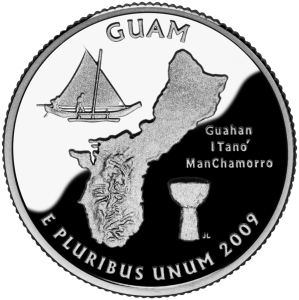 Come on now.  The inscription on the back isn't even in English.  I don't even know what that language is.  We already have Latin, a dead language, on our money.  I shouldn't have to be tri-lingual to read our currency.
Guam has a population of 150,000.  It was bad enough that we gave each Dakota their own quarter (they really should merge).  What's next? A Guantanamo Bay quarter?
Apparently, Guam isn't the only one in on this boondoggle.  Five other US territories / districts / non-states / colonies have these things.
Look at these guys: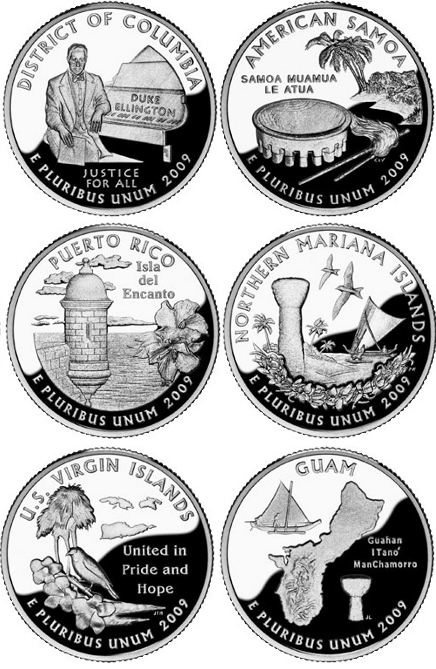 While the state quarters weren't always the epitome of artistry and symbolism, the territories outdid us.
US Virgin Islands: United in Pride and Hope?  What does that mean?  How about "United in Tropical Weather and Gorgeous Beaches"?
Norther Mariana Islands: What are you?  At least you had the good sense to avoid saying something if you didn't have anything of value to say.  But a better picture would help.  How about a globe with a big star saying "We are here"?  This would be better: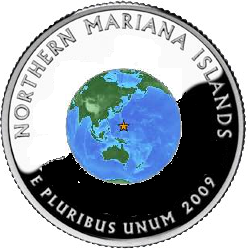 American Samoa and Puerto Rico got in with Guam on the whole "let's add a third language to the money" thing.  Weak.
Washington DC is probably the worst though.   You dedicated an entire quarter to Duke Ellington?  Typically, you have to be the President to get an entire side of money to yourself.  This makes Duke Ellington, Alexander Hamilton and Benjamin Franklin the only non-Presidents to hold this honor.  No offense Duke, but your no Franklin. (Susan B. Anthony & Sacajawea don't count.  When was the last time you used one of those dollar coins? That's what I thought).
At least DC pays taxes, but doing things like putting Duke Ellington on a quarter is why we don't let them have a congressman.
-Chris