Same Symptoms, Different Illness
President Obama is very concerned about blue collar jobs.  And he should be.  Unemployment for workers without a high school diploma is over 15%.  It is 5% for those with at least a Bachelors degree.
Most of the initiatives he is pushing are directed at making and building things in the US.  While this is not a bad strategy, it will not prove as effective as in past recessions.  The nature of the jobs in America has changed, and government programs must adapt.
During the Great Depression, the economy was driven by blue collar manufacturing.  White collar jobs were limited to a few high-level managers.  The New Deal style of spending was effective because it targeted the root of unemployment at the time.
While the unemployment numbers may look similar to then, I argue that the underemployment problem is worse in this economy.  We have more workers with degrees that are working jobs that don't require them.
In order to solve the problem of getting blue collar workers back to work, we need to solve the problem of getting degreed workers, currently in blue collar jobs, back into jobs that utilize their skills.  In turn, the blue collar jobs will open up to the undereducated.
Young, Uneducated, and Unemployed
Looking at young workers in Illinois helps.
2009 unemployment for the state of Illinois was 10.0%.  Hidden in that bad number is an even worse situation for the youngest workers. Illinoisans under the age of 25 make up 27% of the unemployed, while accounting for only 14% of the workforce.  Put another way, nearly 1 in 5 under the age of 25 are without work despite actively looking.
Figure 1 shows the age categories of workers and the unemployment rate at the end of 2009.  It shows a fairly steady trend down as the population ages.  A person 55-64 is more than 3x as likely to be employed than one 16-19.
What does this tell us? The most logical assumption is that the youngest in the workforce are the least likely to be educated. In the 16-19 age group, we are looking at mostly high school dropouts in the workforce.
The 16.3% unemployment rate for 20-24 year olds is still high, but this group also contains high school graduates, which helps a bit. We also begin to introduce new college graduates in this group, who have a relatively low unemployment rate.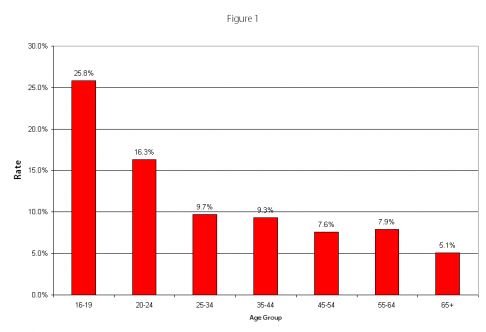 As noted earlier, the largest concentration of unemployment exists amongst those without high school degrees. The simple solution would be to create more jobs suitable for unskilled workers.  However, this would be imprecise and inelegant, as unemployment in the undereducated segment is exacerbated by the difficulties of recent college grads.
Young, Educated, and Underemployed
The BLS data I can find for Illinois isn't very specific. So I will supplement with some national data.
The unemployment rate for 23-27 year old college graduates has doubled from 3% in 2007 to 6% in 2009. This is still relatively low, compared with the uneducated equivalent, but it understates the problem.
This is supported by a few facts and a dose of logic (which might be tough for the politicians to follow).
In 2007, 51% of graduates had a job if they had applied for one. In 2009, that number plummeted to 19.7%. Let's assume that the jobs college seniors apply to while in school require a degree.  Therefore, if they do not get these jobs, we can assume that the jobs they apply to after college are relatively less attractive.  Many of these jobs don't require the degree they have earned.
What's the fallout?
First, the unemployment seen in uneducated/unskilled demographics significantly overstates the need for skilled workers.  This is a bit counterintuitive, but the jobs that once were held by this group are being taken by those with far more qualifications.  Every college grad that is working the shipping line at FedEx to pay the bills is one less high school dropout who holds that job.
Second, businesses typically hire new grads upon graduation.  An 80% unemployment rate at graduation which quickly falls to 6% indicates grads are taking jobs that are less than optimal. If the problem of unemployment was merely manufacturing and unskilled jobs leaving the US, you would not see this strong up tick in recent college grads unable to find a job, but then normalizing into a relatively low 6% unemployment rate.  The college grads would secure employment upon graduation if the white collar jobs they typically fill existed.  Instead of staying unemployed, they "trade down" to blue collar jobs.
As the economy improves, businesses will invest more into product development, marketing, and R&D, and the blue collar jobs held by overqualified grads will gradually open up. I'm not arguing we shouldn't push to manufacture in the US within reason. I'm arguing that in this economy, investing in programs that will stimulate the creation of ANY job will open up the market in all types of jobs.
-Chris
Notes: I use the terms blue collar, unskilled, uneducated, and undereducated merely in speaking about the data and the job market.  Within the term "blue collar" I am also referring to administrative corporate work that does not require a college degree.  Unskilled labor refers to manufacturing work, construction, etc. that, in my opinion, is a very different skill than that of a corporate analyst / manager.   For better or worse, this is how economists and businesses refer to manual labor, so I used those terms.  All unemployment data is from the Bureau of Labor Statistics and the National Association of Colleges & Employers.